Forecastle 2010 – Day 2 Review (part one)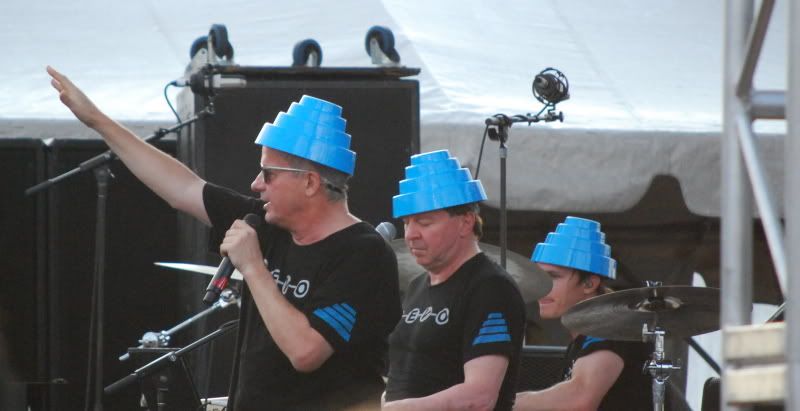 Did you miss Brian's account of Day One?  You can catch it here and then follow the first half of Day Two below:
Saturday began for me at 3pm at the East Stage, where a band known as Mucca Pazza was set to begin.  Twenty to thirty people enter the stage, all in non-matching marching band uniforms.  Guitar, accordion, trombones, saxophones, bass drums, toms, sousaphone and pompoms come together in what can only be described, by themselves nonetheless, as a circus punk marching band.  It sounds like the soundtrack to a Tarrantino directed James Bond movie filmed in the 1920's.  All instrumental, it's one of the most entertaining shows I've seen yet, and it's possible that the most fun was had on stage.  Maybe they were the ones in High School marching band that got kicked out because they were too weird.  All the better for us.  It's a great and inspiring set and almost makes me forget that I'm already sunburned.
Mucca Pazza
Over on the West Stage, Grace Potter & the Nocturnals took the stage to a sizeable crowd and performed an eclectic, genre spanning set that made it difficult to pin down.  Her voice definitely has aspects of Dolly Parton and Sheryl Crow, but depending on the song could be classified as country rock, jam band, and southern folk pop.  The sound was good, guitars had great tones and a B-3 filled all the right spaces like a good organ should.  Her songs cover all the bases to meet your multi-genre needs.
Grace Potter & The Nocturnals
By 5:30, the crowd really begins to thicken as the showtime for Cake grows close.  There are many Cake t-shirts down front, and as I have learned through extraneous chatter, there are a lot of fans of the band in this town, and that excitement can be felt.  They take the stage and leap immediately into the one two punch of Comfort Eagle and Frank Sinatra, ensuring that the tide of the crowd is with them.  Vocalist John McCrea is bent on two things today: crowd interaction and his vibraslap.  Both are featured prominently in the set.  A melodica appears, as well as a guiro, that wooden Latin percussion instrument with cylindrical grooves that you rake a stick across.  Cake seems to be in top form, both tightly professional and energetically enjoying what they are doing.  The hardcore fans are up front, but there are also a lot of softcore fans, with a cursory familiarity of the band (as the guy five people behind me who keeps shouting "Run The Race!!!" repeatedly, apparently wanting to hear the song whose actual title is "The Distance"), or those who have no idea who the band is, as evident in the couple behind me.  She says she likes them because they are rock and roll like the Rolling Stones.  When the band did their version of "War Pigs", I'll quote her now saying, "Now that's what I like, when all the new bands like Cake (!) play the old songs. This was worth it, there's my seventy bucks right there." Personally, I had forgotten how good Cake was, and truly enjoyed the show.  And as the lady behind me nonsensically pointed out, "Looks like they want to have their CAKE and eat it too!"
Cake
Both unfortunately and fortunately, I missed the first half of Devo's set due to filming Kyle's interview with Cake.  By the time I made it back out, it was a fully involved Devo show, with their silver grey uniforms that come in handy if you are shooting a film and need a stuntman to be protected while being lit on fire.  Their sparse stage was as welcoming to the crowd as their message when "Whip It" came out in 1980 and said "Hey, not only is it ok to be geeky and different, it is awesomely preferable to be geeky and different!"  Their set was upbeat and really enjoyable and the crowd was with them all the way.  Are we not men? We are DEVO!
Devo